Q: I got an error message (7) during setup that IP-guard cannot recognize the SQLA:
Please make sure the required service pack and database settings are installed and configured properly.
If the Server is installed on Windows 2000 SP4, please make sure the system is updated with service patch: Win2000-KB891861-v2x86-*.exe
If you are using Microsoft Server 2000, please make sure that it is updated with Service Pack 4: SQL2000-KB884525-SP4x86-ENU.exe
From our experiences, the user also failed to configure the following items:
the users do not install corresponding correct SQL Service Pack. Ensure that SQL Server 2000is installed together with SP4, and SQL Server 2005 is installed together with SP1
During installation in Express 2005, we should select default instanceMSSQLSERVER NOTSQLEXPRESS instance
Now should check from the Service: the MSSQLSERVER instance should be running, if not, please re-install again as you selected the instance wrongly during setup
after the server installed, the users forgot to check and configure the server settings in SQL Server Configuration Management e.g. enablethe required protocol Named PipesAND the log on must be "LocalSystem"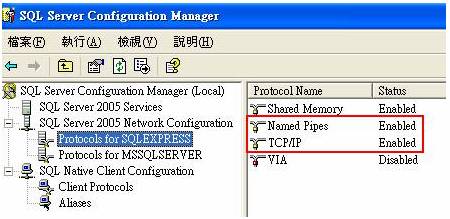 Most of the users can solve those problems after the above checking.